Welcome to Rokko Chiropractic and Wellness Center. Since 2005, we have provided a full range of treatment options for those dealing with physical pain. Our treatment center uses a whole body approach by treating your physical issues with chiropractic care and a variety of personal fitness programs.
Chiropractic Care
Pilates
Gyrokineses
Personal Fitness
Rehabilitation Exercise
We help you by combining these techniques for a specialized treatment plan made for your needs. Our programs are safe and effective for all age groups and conditions. At Rokko Chiropractic and Wellness Center, we want to help you be healthy and pain free, and stay that way.
Location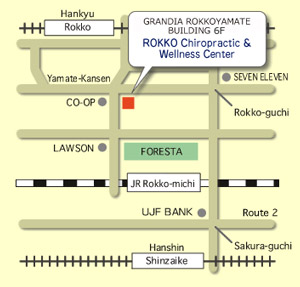 5 Minutes from Hankyu Rokko Station.
3 Minutes from JR Rokko-michi Station.
10 Minutes from Hanshin Sinzaike Station.
2-3-15 Morigo-cho Grandia Rokkoyamate Bld 6F
Nada-ku Kobe 〒657-0028
Phone 078-856-5306
AM 10:00~13:00
PM 15:00~20:00

CLOSED
Mondays AM,Thursdays & National holidays
Happy Clients
I first met Tadaki-san when I brought my daughter in for treatment. She hurt her back in a collision during soccer practice. As Tadaki-san explained the chiropractic process I learned for the first time that chiropractic care is meant to be an ongoing program of treatment to allow the body to heal itself.
I had always believed that chiropractic were just for when your back hurt or your neck was stiff.
I started going to Tadaki-san several years ago and I have been a regular patient ever since. I feel that she has been instrumental in keeping me healthy and fit over that time period. I work out six days a week, running and lifting weights and I have not had a single injury during that period. I creditTadaki-san for keeping me GENKI and strong. I really like how she combines chirorpactic care with massage and pressure point treatments. She is an excellent massaage therapist and I always feel relaxed and rejuvenated after one of my appointments.
Whenever I meet someone who is having health problems I immediately tell them about Tadaki-san and urge them to go for a visit. This is quite a statement coming from someone who had never visited a chiropractor before and never really understood what they did. Someday I will have to leave Japan and one of my biggest regrets will be having to stop going to Tadaki-san. I am not sure that I will ever be able to find someone to replace her!

Mr. J
Male, 50
June 2023

Sun

Mon

Tue

Wed

Thu

Fri

Sat

1
2
3
4
5
6
7
8
9
10
11
12
13
14
15
16
17
18
19
20
21
22
23
24
25
26
27
28
29
30
Prev Month
■Closed
Grandia Rokkoyamate 6F
2-3-15 Morigocho Nada-ku
Kobe 657-0028
TEL/FAX 078-856-5306

AM 10:00~13:00
PM 15:00~20:00

CLOSED
Mondays , Thursdays & National holidays
What's New
We have a new website, we hope you like it!

Like us on facebook! https://www.facebook.com/pages/Rokko-Chiropractic-and-Wellness-Center/142793139123035